Germany failed to secure air supremacy in September 1940 and so had to put off any planning for invading Britain. By May 1941 Hitler was fully committed to the invasion of the Soviet Union, and after Stalingrad and El Alamein in 1942, was very much on the defensive. But in early 1941 British planners still thought it necessary to construct anti-invasion defences all along the South Coast. The Royal Engineers built a string of gun emplacements and machine gun posts along the sea front with minefields behind them to supplement the mines that had been laid on the beaches in the summer of 1940.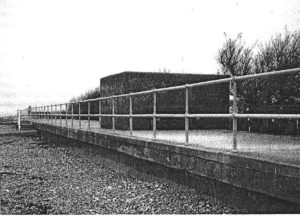 Ferring's 'Type 26' Pill Box was one of many, but now it is one of the only two that are left between Selsey Bill and Shoreham. It was made of concrete, poured on-site, and had a blast wall on the landward side covering an entrance which led down a short flight of steps to a small chamber with three openings for its machine gun. One faced the sea, the other two faced east and west across the beach, It was manned by up to five soldiers from infantry regiments stationed locally.
After the war the blast wall was demolished and the rubble shovelled into the chamber; the entrance and apertures were bricked up and when the other sort of sea defences were built up in 1955 it was decided to build a promenade deck around it. The pebble-dash covering may have been original. For camouflage or it might have been done in 1955 to cover up an unattractive surface and any sign of its wartime purpose. In 2005 the Parish Council installed this plaque on the west side wall to commemorate the 60th anniversary of VE Day, In 2007 the entrance was opened up, a steel door was fitted and a limited inspection of the interior was made by members of Ferring History Group. There was little to see other than rubble, puddles of water, and some of the fittings on which the machine guns had been mounted.
Now the Parish Council has had that plaque refurbished and the brief facts about the pill box are there clear for all to read, and to remind residents and visitors of those dark days.